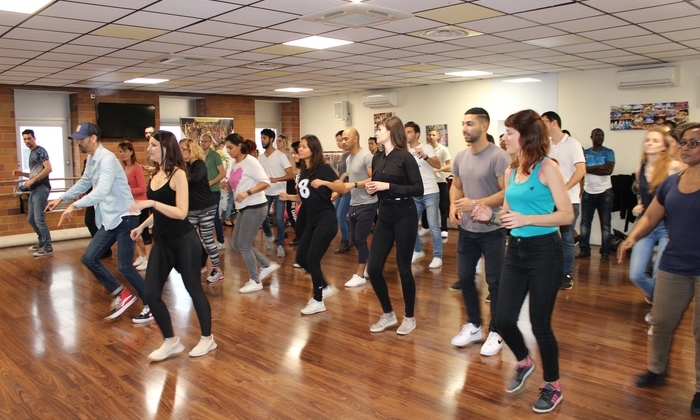 Description
The Marseille Danse Academy has 3 dance studios in Marseille available for rent.

Each is equipped with a warm parquet floor, a wall of mirrors, stretch bars and sound equipment allowing the use of a USB stick or a CD player.

The studios are available for rent for all your professional and private moments:


Dance classes and courses that are not offered by our dance school

Organizing meetings for businesses
Rehearsals to work on your choreography

Dancing tea
Birthdays or other events


Possible rental times:

Monday to Friday (SAUF Wednesday): 9:30 a.m. to 4:30 p.m.

Saturday: 1:30 p.m. to 8 p.m.

Sunday: 10 a.m. to 8 p.m.

Please contact us for more information for a room rental in Marseille.
Rules
1- For the rental of a room for a training session or warm-up of dance or sports,
From €20 per capita
Weekdays from 8 a.m. to 5 p.m.
Saturdays from 1:30 p.m.
Sunday all day

2- For the rental of the premises for a private or professional evening:
From €500 (price depends on the number of guests and the number of hours you need the venues)
Saturdays from 3 p.m.
On Sundays, it is possible to keep the room all day (with extra charge).
If you want a complete package with event organization, the price will be on quote.

3- For renting a room for a birthday,
From €150 for half a day
Weekdays from 8 a.m. to 5 p.m.
Saturdays from 1:30 p.m.
Sunday all day
If you want a complete package with event organization, the price will be on quote.

4- For the rental of a room during the day,
From €20 per or €150 (depending on the number of hours)
Weekdays from 8 a.m. to 5 p.m.
Saturdays from 1:30 p.m.
Sunday all day
Booking policy
Cancellation policy: Flexible
Not specified
Available
Unavailable
Not specified
Available
Unavailable