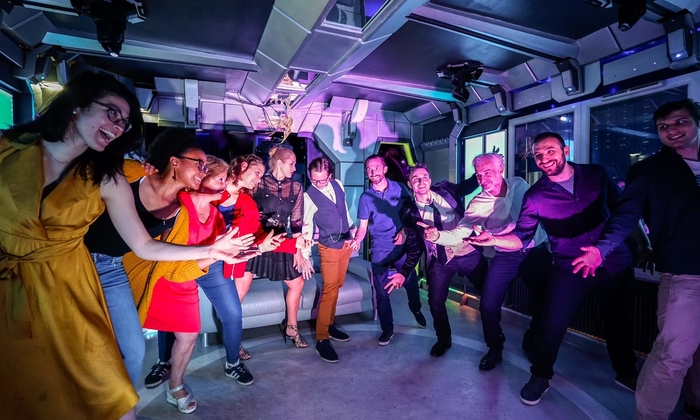 Description
For one evening, you will be transported to a house with incredible decorations with:
- a buffet/meal area at the 'Witch's Chaumière' table (8 seats, large round table, possibility to add a small rectangular table)
- a Dancefloor "Spaceship" with a video projector as in the cinema
- a bathroom "Temple Cursed Indiana Jones"
- a cloakroom converted into "Dr. Frankenstein's Lab"
- a Medieval Skeleton Terrace (with two patio heaters and a large table)
You'll discover special effects such as full-size automatons, holograms, smoke machines, and disco lights.
The kitchen is equipped with an oven, a microwave, a nespresso coffee machine, a dishwasher, a double sink.
Toilets are also available.
We can offer patio heaters for maximum outdoor comfort, as well as a small enclosure.
Two adorable and discreet cats are present (protect you if you have allergies).
A host is present for the duration of the event to welcome you, offer you a guided tour, but also technical and security reasons.
We can accommodate up to 30 people.
Strong alcohol is not allowed.
Please pay attention to the decorations that are entirely handmade by your guests.
We will do our best to make sure you have an extraordinary time.
1... 2... 3... BOOK!
Rules
LEASE TERM
The duration of the rental may not exceed 9 hours or so.
All rentals will end at 2:00 a.m. at the latest.

ARRIVAL AND DEPARTURE
You have to come on your own.
An update of the entry and exit events will be carried out.

EQUIPMENT AT YOUR DISPOSAL
Our equipped kitchen (oven, microwave, dishwasher, nespresso coffee machine) but not the ingredients will be available.
It is possible to release two floors for tenants in the refrigerator, which is a classic refrigerator one door.
Tenants plan their own cutlery (cups, cups, glasses, knives, forks, spoons), and their own food and beverages.

MAXIMUM RECEPTION CAPACITY ACCEPTED
The venue has a maximum capacity of 30 people, including 10 seats.

ACCOMMODATION OPTION
Tenants are not expected to be able to sleep on site.

OWNER'S PRESENCE
The owner is present to accompany the visit of the place by the tenants as well as for the state of place of entry and exit.
The owner is also discreetly present, for the duration of the rental, to ensure a technical and security watch.

HOUSEHOLD PACKAGE
We apply a mandatory household package of 30 euros.
The package includes cleaning the parts, if any of the linen. However, please make sure you do not leave the dwelling in disarray, including the storage of used items and dishes. The tenant will return the rented accommodation in good condition.
If access to the kitchen and its equipment is included in the rental, it is however requested to clean them and to take back all food and beverages (the household package does not include dishes, nor maintenance of equipment such as the oven, microwave, dishwasher, sink, coffee maker, etc.). If the tenants do not comply with these rules of storage and maintenance, a sum of 30 euros to be charged to the tenant or to be deducted from the deposit if necessary.

Garbage
Outdoor garbage cans are available at a capacity of 40 litres.
Please respect the rules of selective sorting in force: blue bin for cardboard, plastic and metal packaging; green bin for household waste.
There is no glass bin in the place. Any waste of glass must therefore be disposed of on your own in the containers/glass columns provided for this purpose nearby.
No waste should be found in the outdoor spaces adjoining the site.

SMOKING/NON-SMOKING AREA
It is not allowed to smoke indoors, only outdoors.
Butts must be extinguished in ashtrays (not on the ground) that will be moistened, placed in garbage bags, and emptied in outdoor garbage cans by tenants before they leave.
It is allowed to smoke outdoors on the terrace.
However, in urban areas, please ask your guests to respect the surrounding neighbourhood when they go out to smoke.

HOME FOR ANIMALS
The tenant is not allowed to stay with his pet because of the cats present at the place.

Vehicles
It is allowed to park a vehicle in the parking lot.
Be sure to close the gate at each entrance and exit.

MUSIC/SOUND LEVEL
Indoor music is allowed as well as the presence of a DJ.
Outdoor music is allowed (for a low volume until 10 p.m., and no outside 10 p.m.).

NEIGHBOURHOOD TROUBLE
Any nuisance considered to be disturbance of the neighbourhood or disturbance at night can be reprimanded by law by a fine of 450 euros, at the expense of the tenants occupying the place as of the date of the facts.
The landlord will have the option of charging this amount to the tenant or deducting it from the deposit if necessary.

Deposit
A deposit of 500 euros is requested at the state of the places of entry.
It will be used in case of theft or degradation.
The deposit must be given in cash or by bank cheque (with a copy of the ID).
Without bail, you won't be able to access the place.
The deposit will be returned to the tenant 48 hours after the event.
If your event ends at night, the release room can be stateed the next day.
Booking policy
Cancellation policy: Flexible
Characteristics
Capacity & surface
Capacité debout :

21-30

Seating capacity :

21-30

Surface de réception :

moins de 100 m²
Moment de l'événement
Matinée

Après-midi

Après-midi

Après-midi
Musique
Volume musique :

minuit

Volume musique :

Musique élevée
Tranche d'âge
Public enfant

Jeune/étudiant

Adulte
Moment de l'événement
Friends

Family

Entreprise

Association

School

Public
Équipement
Eau

Electricité

WC

Lavabo

Réfrigérateur

Cuisinière

Sono

Jardin

Piscine

Barbecue

Tente

Accès handicapés

Wifi

Climatisation
Evénements
Evénement professionnel

Soirée étudiante

Réveillon

Soirée dansante

Réception

EVG/EVJF

Pool Party

Garden Party

Baby Shower

Fiançailles

Réunion familiale

Mariage

Anniversaire

We are both passionate about fantasy film and science fiction sets. Two dreamers in front of the performing arts and the experience they offer to their audiences. Together we dared: we set ourselves the challenge of making our imaginary worlds a reality. Trained in visual arts and graphic design, our professional lives have taken us away from these activities. To create "The Fantastic House", we learned these skills and techniques that give life to the illusion. So since 2012, scene after scene, the city disappears, the eras are telescoped, wood is made metal, the walls are covered with secrets and we create a unique universe! Today we invite you to pass on the other side of the mirror and enter these Haunted Scenes to live them in your turn.
Has already rented on IziParty
Email : verified
ID Card : verified
Contact me
Not specified
Available
Unavailable
Not specified
Available
Unavailable