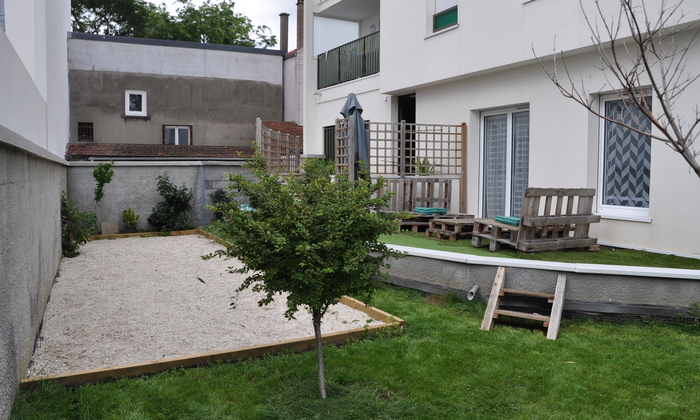 Description
Hi all

I offer the rental of my apartment of 65m2 with access to a private garden, with terrace.
The apartment is composed as follows:
- an entrance with cupboard
- a living room of 30m2 with fully equipped kitchen
- a bathroom with Italian shower and toilet of 10m2
- a room of 10m2
- a garden of 100m2 with pallet lounge and playground
Rules
Make the apartment in the same condition as when you arrived as it is a new apartment.
I will be present on site (to help you in the implementation and make the inventory of the entrance / exit).
Important to pay attention to noises from a certain time for the neighborhood especially outside.
For the comfort of all, 10-12 people are allowed.
A deposit check will be requested.
Do not hesitate if you have any questions.
Kind regards
youngest child
Booking policy
Cancellation policy: Strict
Characteristics
Capacity & surface
Capacité debout :

0-10

Seating capacity :

0-10

Surface de réception :

moins de 100 m²
Moment de l'événement
Matinée

Après-midi

Après-midi

Après-midi
Musique
Volume musique :

minuit

Volume musique :

Musique modérée
Tranche d'âge
Public enfant

Jeune/étudiant

Adulte
Moment de l'événement
Friends

Family

Entreprise

Association

School

Public
Équipement
Eau

Electricité

WC

Lavabo

Réfrigérateur

Cuisinière

Sono

Jardin

Piscine

Barbecue

Tente

Accès handicapés

Wifi

Climatisation
Evénements
Evénement professionnel

Soirée étudiante

Réveillon

Soirée dansante

Réception

EVG/EVJF

Pool Party

Garden Party

Baby Shower

Fiançailles

Réunion familiale

Mariage

Anniversaire

Working in events, I rent my apartment to have an additional income since my professional activity is almost at a standstill.
Has already rented on IziParty
Phone: verified
Email : verified
ID Card : verified
Contact me
Not specified
Available
Unavailable
Not specified
Available
Unavailable
Reviews
Super hote ! Convivial, disponible et très arrangeant !
N'hésitez pas à réserver, l'appartement est propre, le jardin est spacieux idéal pour des petites réceptions, j'ai réservé pour une dot traditionnelle pour une vingtaine de personnes, Benjamin est une personne très sympathique et compréhensive, il a été très réactif lors de nos échanges. Je suis très contente du service rendu, je recommande les yeux fermés.
J'ai passé une excellente soirée, Benjamin est une personne chaleureuse qui nous a très bien accueillie avec une très belle maison. Je recommande !
Appartement très spacieux et propre, Benjamin est très serviable, gentil et respectueux. On a passé un super bon moment à 10 et surement je reviendrais encore.
Nous avons loué l'appartement de Benjamin pour un évènement entre filles.
L'accueil etait top,
L'endroit bien équipé.
Le tarif est super attractif.
Nous renouvellerons certainement l'expérience.
Très bien accueilli réservation au toop
Parfait, tout c'est bien passé. Benjamin a été très à l'écoute, réactif et disponible. L'appartement est magnifique rien à dire. Je recommande a 100%, et réserverai à nouveau si besoin.
Benjamin est une superbe personne !
Qui nous a très chaleureusement accueilli !
Vous pouvez lui faire confiance les yeux fermés
Le prix est très abordable !
Nous sommes ravis il y aura certainement d'autres prochaines fois.
L'appartement est propre et neuf. Facilement réparable et tout est fonctionnel !
Benjamin est un hôte très accueillant et d'une grande sympathie. L'appartement est très beau, ainsi que le jardin. Je n'avais encore jamais rencontré un hôte tel que Benjamin.
Anniversaire mémorable
hôte hyper accueillant et chaleureux, en plus de ça avec un très jolie appartement :)