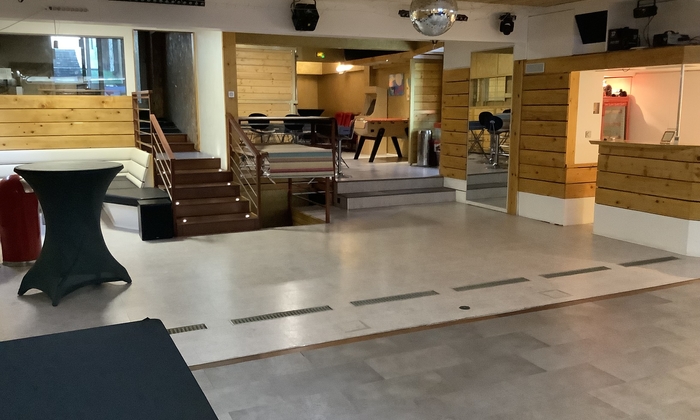 Description
Multifunctional room for 2 to 60 people with or without swimming pool spa area with massage and treatments possible.
Fully equipped room, sound system, play of light, 85-inch screen, arcade terminal and pinball machines.
Rules
INSTALLATION
Installation and uninstall times are included in the rental.

ACCESS
Given the neighborhood and the management of entrances, access to the place will no longer be allowed from 23:30 for new arrivals, unless an exception is indicated before the event.

CONFETTI
The use of confetti is prohibited throughout the premises.

BAIL
A security deposit is required to confirm your reservation. Rest assured, this deposit is neither debited nor blocked on your bank account. A deduction will be made from your deposit:
• In case of damage due to your recklessness or if the state of cleanliness of the place is considered unacceptable,
• If the number of guests exceeds the number written on the contract,
• If departure times are not respected
• If intervention of the police for noise, levy of 450 €
• If the rules of procedure are not respected

CLEANING
The cleaning fee includes the cleaning of the spaces rented. However, please be careful not to leave the premises in a mess, by ensuring the storage of furniture, objects and dishes.
If access to the kitchen and its equipment is included in the rental, it is requested to clean them and take back all food and drinks (the cleaning fee does not include dishes or maintenance of equipment such as oven, stove, coffee maker, etc.).

HOUSEHOLD GARBAGE
Garbage cans are at your disposal. Please respect the rules of selective sorting in force: yellow bin for cardboard, plastic and metal packaging; green bin for household waste. Please dispose of your waste on your own. No waste should be found in the outdoor spaces adjacent to the place.

ANIMALS
The Applicant is not allowed to stay with his pet.

SOUNDSCAPE
The announcement tells you the sound atmosphere tolerated during your event. Outdoor music is not allowed. The presence of a DJ is allowed.

PARKING
You have two places in the inner courtyard to park.

SMOKING AREA
You cannot smoke outside. A dedicated smoking area is at your disposal indoors. Cigarette butts must be extinguished in ashtrays (and not on the ground) which will be moistened and then emptied into the garbage bags when you leave. The use of shisha is prohibited.

NEIGHBOURHOOD DISTURBANCE
Any nuisance considered as disturbance of the neighborhood or nocturnal noise can be reprimanded by law by a fine of 450 €, at the expense of the Applicant occupying the premises. The Offeror will have the possibility to invoice this amount to the Applicant or deduct it from the deposit if applicable.

COVID
The Applicant undertakes that none of his guests (including himself) will be recognized as a contact case or present any symptom of COVID19 at the time of the event. It also undertakes to respect as much as possible the barrier gestures prescribed by the government.
Booking policy
Cancellation policy: Strict
We wanted a multi-function place, spa, pool party, massage, party room, birthday, baptism .... For all your events from 1 person to 60 people, everything is possible on estimate
Has already rented on IziParty
Email : verified
ID Card : verified
Contact me
Not specified
Available
Unavailable
Not specified
Available
Unavailable