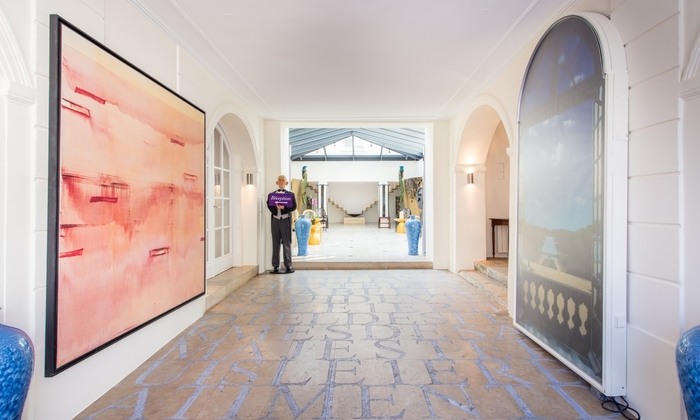 Description
Nestled in the heart of the Saint Louis district, is home to the entrance to another world. A place where time seems to have stood still and where every moment is devoted to tranquility and well-being.

You arrived at the Beauty Hotel.

Designed as a French beauty sanctuary, the Hotel de Beauté is a haven of peace where one takes care of one's body and mind. Safe from the hustle and bustle outside, time seems suspended, the whirlwind of daily life finally decides to slow down. Breathe, breathe, forget the stress, the fatigue... Take care of yourself.

1000m2 dedicated to beauty and well-being in the heart of Versailles... A confidential address where serenity is restored, and harmony restored.

Elegant and refined, the Hotel de Beauté unfolds around a private driveway bathed in a bright light where the exterior seems to reach the interior.

The walls are lined with works by famous contemporary artists, and objects from all over the world,

for a modern, luxurious and intimate atmosphere.

A historic place:

Circa 1670, Louis XIV had a pavilion known as the Hotel des Gabelles eared at 6 Avenue de Sceaux. In the first part of the 17th century it became the first Hotel of Her Majesty's Farms. In 1748 the services of the farm hotel were transferred and it became the first building of the barracks of the guard house called the company of the Light Horses and then by ordinance of September 1787, Louis XVI abolished the company of the Chevau-Légers and the plot was definitively awarded to Laurent Wathiez, a merchant at Versailles and a sieur de Levis who emigrated to the United States of America just after the revolution. It then became the property of a farmer from Gif, then a printer, and finally Pierre Charles Laroche, who controlled indirect contributions, who rented it in 1811 to the Mont de Piété. It then became a "Garnie house" and then a printing press in the mid-19th century. The history of the Hotel des Gabelles continues to the present day when it finally becomes a Private Hotel of Beauty and Well-Being, called the Hotel de Beauté.
Booking policy
Cancellation policy: Flexible
Characteristics
Moment de l'événement
Matinée

Après-midi

Après-midi

Après-midi
Tranche d'âge
Public enfant

Jeune/étudiant

Adulte
Moment de l'événement
Friends

Family

Entreprise

Association

School
Équipement
WC

Lavabo

Réfrigérateur

Cuisinière

Sono

Jardin

Accès handicapés

Wifi
Evénements
Evénement professionnel

Soirée dansante

Réception

Fiançailles

Réunion familiale

Mariage

Anniversaire

Has already rented on IziParty
Email : Not verified
ID Card : Not verified
Contact me
Not specified
Available
Unavailable
Not specified
Available
Unavailable